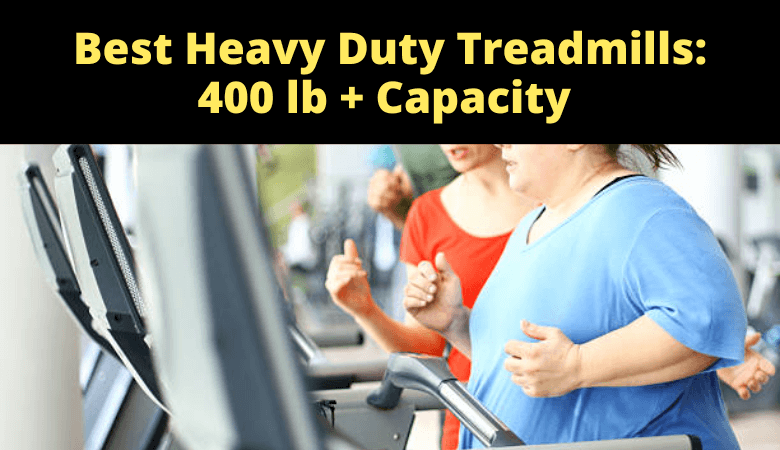 It's a big paradox that treadmills are among the greatest workout equipment for weight reduction, yet many feature a maximum user limit of 300 pounds. Definitions vary significantly, and the reality is one does not have to be medically obese per se to classify as overweight. Users taller than 6'4″ or with longer running steps, in general, should think about the tread belt length while making a purchase.
Good quality treadmills are abundant, and many have motors and frames strong enough to support users weighing up to 500 pounds. Moreover, some foldable treadmills can also support people on the heavier side, mostly 400 pounds at maximum.
Are you tired of thumbing through fantastic models in pursuit of maximum user weight? Don't sweat it. We've picked up the best five treadmills for heavier individuals for home usage, which might be up to 500 pounds.
Our Top Picks for the Best Heavy Duty Treadmills are: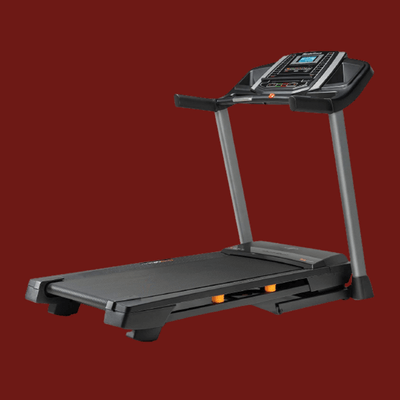 Despite its smaller size and simpler construction, this treadmill offers a decent product at a reasonable price compared to other treadmills in its price range.
The NordicTrack T Series is not as durable as some other treads in its class since it is designed for athletes searching for smaller, foldable equipment. While it holds well during brisk walks and jogs, it may not hold well during long-distance runs or interval training.
Pre-programmed exercises and standard features like a variety of inclination and speed settings are still expected. The NordicTrack T series (T6.5 Si) may meet your fundamental requirements. When it comes to steepness and velocity, this tread does its job at 10 miles per hour but falls short in the upper gears. It may be lacking in speed and inclination, but its free iFit membership and additional pre-programmed programs make up for it.
While the included iFit membership is a huge benefit, the T6.5 Si may not be up to the task of challenging runners in an interval or long-distance training. However, this may not be an issue if you like to walk or jog. This thread will certainly be noticed, if only for its asking price.
The 6.5 S has the same frame as the 6.5 Si, making it durable and portable. Steel was used to create the sturdy side and cross beams that make up the foundation. The console and railings are supported by powder-coated chrome rails. The deck is made of a combination of materials to ensure the stability of the running surface and withstand wear and tear.
Pros
Sturdy and compact
Great value for the price
Perfect for light running
A free iFit membership is good for one year of access to thousands of live treadmill workout
Simple hydraulic folding is made possible by the SpaceSaver Design and EasyLift Assist
Lifetime warranty for the frame
Cons
Not suitable for intense training
No touchscreen
---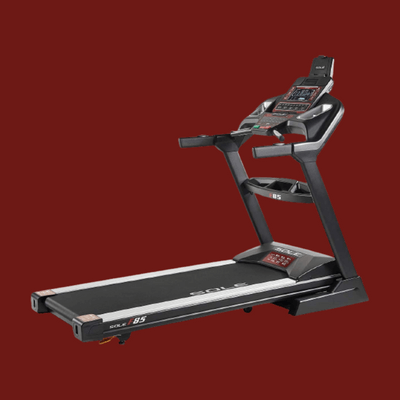 It isn't easy to locate a quality treadmill that can accommodate a heavy user. However, the Sole Fitness treadmill is the most excellent option if you or a family member are interested in running and want a treadmill with room for expansion in the future. It is one of the most sturdily constructed treadmills you can buy for home usage.
You may use it for speed walking, and its sturdy construction means it won't buckle under your weight. Moreover, its robust motor makes it a great choice for running or other high-intensity workouts. This treadmill is 83 inches in length and 37 inches in width and can support users up to 300 pounds.
Even though You will need assistance setting it up and transporting it. Once completed, you can carry this folding treadmill wherever you want. The motor is robust and, considering its size and output, is very quiet.
The running belt's width spans 22 inches and comprises of two layers. The 22-inch length and two-ply construction should keep the belt running well for an extended period without any major repairs.
The surface with a broad belt indicates a lot of open space. At 60″, it has the longest belt, making jogging on the Sole F85 more pleasant.
Every treadmill meant for heavier users must have sufficient cushioning. It's no surprise that the Sole F85, with its 400-pound weight limit and hefty price tag, has the best shock absorption. It absorbs the impact while jogging, so there is less strain on both the user and the machine. If you're overweight, the pressure on your joints from jogging might be considerable; a cushioned surface would be helpful in that case.
Pros
The broad and wide tread belt provides a very pleasant running surface
A long durable, two-ply thick belt
Superior dampening technology for impacts
Cons
No speakers for your phone or MP3 player
More expensive than other treadmills that carry 400 lb + capacity
---
The ProGear is a high-capacity treadmill that is suitable for beginners. ProGear is the more affordable option for those not into heavy-impact exercise. The good news for big people that budget treadmills are indeed out there.
Additional features include extended handlebars for comfort and a user-friendly monitor that keeps tabs on your speed, distance traveled, calories burned, and heart rate.
In addition to the helpful two-level inclination that ProGear has provided, the superb 20-inch-wide running belt offers plenty of area for a comfortable workout.
While the Progear's 1.5HP engine makes it ideal for jogging and power walking, the running belt is shorter than the Exerpeutic. Therefore, we would only suggest this machine for those activities.
Neither of the inexpensive machines can go faster than four miles per hour, so high-intensity training is out of the question.
The ProGear treadmill delivers a lot of bang for your money. This is, after all, a treadmill with an inclination and outstanding safety features. Moreover, it has long bars and a low step-on height.
The ProGear is an excellent deal if you can live with the shorter running deck compared to the Exerpeutic TF1000.
Pros
Sufficiently satisfying for the cost
The belt for jogging is extra wide
Value-packed high-information display
The assembly time is less than 30 minutes
Manual incline with two heights
Extremely quiet engine
A low-priced treadmill that can support 400 pounds
Cons
LCD screen is too little
A non-backlit LCD
---
The treadmill base, console, and maintenance-free walking belt of the Lifespan TR5000-DT3 are all built to withstand strenuous exercises and survive heavy usage. Its compact form allows it to slide easily under furniture. You may use it for hundreds of hours without fretting about its performance since it was made specifically for the rigors of an office setting.
TR5000-DT3's commercial grade 3 HP continuous duty motor operates quietly and effectively. It has a speed range of 0.4 mph to 4mph and may be driven at either end of the spectrum. Because the engine runs quietly, LifeSpan etched lines into the belt to alert riders that the vehicle is in motion.
The sleek and modern appearance of the LifeSpan TR5000-DT3 tiny console means it will not take up much room in your office. It has an easy-to-read red LED screen that shows essential data regarding your activity, such as your walking belt speed, distance, calories burnt, the time elapsed, and step count. There is a USB charging connection in the console. Moreover, it is compatible with both Android and iPhone devices.
The developers of the LifeSpan included legacy innovations like the built-in step counter made possible by the Intelli-Step technology. The treadmill will only run when you are walking on it. Hence, it creates a risk-free working environment thanks to Intelli-Guard technology.
Not only that, but it can link with the LifeSpan Active Track fitness app through Bluetooth so that you can keep tabs on your progress over time.
This LifeSpan office treadmill, like their others, is completely constructed and shock-mounted upon delivery. It comes with a three-year warranty on the motor plus a two-year warranty on the components.
Last but not least, hundreds of government organizations, colleges, health centers, and enterprises have embraced the active-office lifestyle, and this beast of a treadmill has become an essential part of their daily routine.
Pros
Advance features include Intelli-Step and Intelli-Guard safety emergency stop key
Has a high mileage
No lubrication needed on the walking belt
No daily time limits on operation
Built-in USB charging connector for use with wireless devices
Bluetooth connectivity for syncing daily exercise data with the Active Track App to monitor your overtime progress
Superior 400-pound max weight capacity
Offers a user guarantee
Cons
At 119 pounds, this treadmill is a little cumbersome to use as an under-desk option
---
This 120-pound treadmill is the smallest and lightest of the treadmills we've examined, with a delivery weight of around 145 pounds. It is not quite as portable as some treadmills, but it's still relatively small.
The treadmill is excellent for walking; however, if you want to run on it in the future, you will need an upgrade. If you only want to use it for strolling, then the Exerpeutic TF1000 would be more than enough. Unlike a stroll, the treadmill's top speed is four mph (6.5 km/h), so you can get a good workout at a brisk walk.
The motor is merely 1.5H, but that would be what you need for casual strolling. In addition, the engine's small size means it operates quietly. In other words, if you purchase this treadmill, you can comfortably watch television or listen to podcasts without noise distractions.
We think Exerpeutic did a great job of making this treadmill accessible to those with mobility challenges and heavy users. Why? Many on the larger scale also discovered that the extra-long railings were reliable. Knowing this information is important if you have trouble getting about and using the handrails often.
The belt may slide and need adjustment periodically, but this is a minor issue compared to the treadmill's numerous positive features.
The length of the jogging belt is 40 inches, and its width is 20 inches. The 20-inch breadth should also be enough for most walkers. As a bonus, the TF1000's side rails are broader than typical treadmills, allowing you to effortlessly straddle the tread belt during a break.
This treadmill may also serve as an excellent walking desk for individuals who need that functionality. The two adjustable inclination settings and basic LCD of time, distance, calories burned, and speed should be sufficient for your needs.
Pros
Extremely lightweight
Has a quiet engine
Longer handrails for the benefit of those with limited mobility
Large handrails provide a comfortable place to rest
Contains all necessary components and is ready to use out of the box
You may only walk or jog at speeds of up to 4 mph on this treadmill (6.4 kph)
Cons
No frills, a very basic interface
Limited guarantees
---
What to Look for in a High-Weight Capacity Treadmill (400 lb Weight Capacity)
Many individuals would be unable to take advantage of the many health advantages of home cardio workouts if not for companies that make high-capacity treadmills reasonably priced.
Since there have been no reasonably priced solutions for heavy users for years, we commend those products on our list.
On the other hand, treadmills seen in fitness centers are industrial machines built to endure heavy use by many individuals daily. Since you want it for home or office use, you will want to search for a few qualities before buying a high-capacity treadmill.
Must-Have Features
You should prioritize the elements that will best assist you in using the equipment rather than becoming distracted by the flashy display extras. Check if you need such excesses, such as training programs, monitoring for weight loss objectives, or entertainment possibilities.
Docks for your iPad might be helpful if you are trying to avoid giving in to temptation by separating it from your other devices. Still, ask yourself if you want only the most basic functions or if you are looking for more complex ones intended for power users.
Deep and Roomy Running Track
Tread belts on commercial gym machines are usually quite broad to accommodate a wide range of users. Be cautious while buying a cheap treadmill and focus on the breadth of the running deck instead.
Running requires a more spacious surface, and smaller running surfaces may be alright if you want to stroll rather than run. Moreover, it must be broad enough for your normal stride but not too wide that you will have trouble straddling it if you need to halt suddenly.
Heavy individuals tend to require a broader treadmill, which implies that the treadmill belt must be wide enough to suit your normal stride. Any treadmill that gets you falling off the wheel is not worth your cash.
When exercising, if the deck is too small, you may lose your footing and fall off the belt. You might have seen people slip off a treadmill, avoid such accidents by choosing a deck that would be enough to support you.
Those who want to lose weight or exercise by walking do not need a particularly long belt, but those who hope to jog sometimes should get at least 55 inches long (or 60 inches if they are tall).
Durable Structure
Your home treadmill needs a strong structure more than anything else. Treadmills designed for users weighing 300 to 500 pounds are available from several manufacturers.
One of these heavy-duty types may be suitable even if your weight is somewhat less than 300 pounds.
Read the manufacturer's stated specifications with care. The treadmill's specifications must clearly state that it can support users weighing 300 pounds or more. Moreover, check if they did comprehensive testing before making such a claim.
Superior Guarantee
You would probably end up using your treadmill many times every day. Searching for a product with a solid guarantee would be best to get the most out of it. The warranty granted by the manufacturer is often better for more costly treadmills.
It is best to go with a guarantee that covers benefits for users for a whole year. Check if the treadmill includes a lifetime guarantee on the frame or a lifetime motor warranty.
Such a warranty should ensure that you are happy with your treadmill for a long time. A home treadmill might be the first step toward a better and healthier lifestyle.
Maximum Weight Capacity of Treadmills
Like all other exercise equipment, treadmills have a user weight limit you cannot exceed. Else, it could lead to an accident or broken equipment. Here, we look at several with weight restrictions of 300 to 450 kg.
The treadmills with a lower weight capacity will not necessarily break, but they will wear out sooner. The engine may strain harder to maintain the correct pace, making it overheat. However, it may not seem a significant concern if you use the treadmill periodically and for short spurts. However, it might wear down the motor over time and render it useless.
If the treadmill's rated capacity is 350 pounds and you weigh a few more, it should pose any problems.
Without a doubt, the maker will not be able to provide such information. Despite this, several heavy-set people have reported using treadmills with a total weight slightly below theirs with no difficulties. But if you decide to use a treadmill that is unsuitable for your weight class, you risk nullifying the warranty.
Frequently Asked Questions
How much weight do most treadmills be able to support?
Since there is such a vast variety of treadmills, from home models to industrial ones, finding a median value is challenging. In any case, 250 to 300 pounds seems to be the norm.
When using a treadmill, what occurs if too much weight is applied?
When you overload a treadmill, you strain the engine and the belt more, and the motor may overheat and fail earlier than expected. The belt is also susceptible to wear and tear, and the frame may weaken under excessive loads or over long periods of disuse.
Is running harmful to overweight knees?
Every situation is unique. Therefore, it would be best to get a professional opinion from a doctor. Jogging and walking are excellent weight loss methods, but only if the obese individual has never had knee discomfort. You should recognize your limitations, and if joint discomfort is a worry, you should ease into the activity.
Just getting in some extra walking each day has massive health benefits and will help you lose weight without much impact on your knees.
How long should an overweight person treadmill?
Regular exercise for at least 45 minutes, if not an hour, is recommended daily. But if weight is a concern, then beginning with 10-minute workouts and going up in resistance is ideal.
If you are worried about your joints, do not force yourself to walk for more than 10 minutes. Instead, gradually increase the session's slope and pace.
Are treadmills better than walking outdoors?
While we should enjoy nature, we should also be aware that it is not for everyone. Some cannot stand the noise or pollution outdoors and would opt for indoor walking.
Treadmills can allow you to walk year-round at any time of the day or night. Moreover, you do not have to worry about the weather. Furthermore, treadmills have varying slopes if you want a challenge.
Are there any weight restrictions for using a treadmill?
Avoid exceeding the treadmill's maximum user weight at all costs. Manufacturers put their treadmills through rigorous testing at various weight levels. Overloading the treadmill might damage the motor and perhaps ruin the frame.
Generally speaking, using a treadmill at least 50 pounds less than its maximum is safer. Your treadmill's motor will thank you for it, and you can use it for a long time.
Wrapping Up
Treadmills that can support a large user weight range come with hefty price tags because of the robust construction, reinforced decks, and strong motors required. However, you can find cheaper treadmills that are great treadmills for home use.
Find a heavy-duty treadmill with an inclination function if you want to burn more calories when walking or running. The calorie expenditure from walking or running uphill is triple that of the same activities on level terrain. Several muscle groups benefit from incline jogging, including the glutes, calves, and hamstrings.
We have listed the best brands if you are looking for a treadmill that can accommodate 400 lbs + people. We have reviewed the top five picks for the best heavy-duty treadmills to help you select the best device for you.