Although pre-workout supplements aren't unusual among gym-goers, not every formula is beneficial.
In fact, many of them are loaded with harmful chemicals that not only delay achieving your body goals but also affect your overall health. That's why we were a bit apprehensive when we came across the Crazy Nutrition intensive pre-train supplement, despite all the positive reviews it has garnered.
But is this product worth it? Dive in to find out!
What Is The Crazy Nutrition Intensive Pre-Train?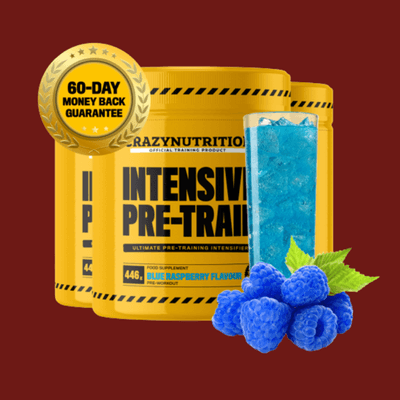 The Intensive Pre-Train by Crazy Nutrition is essentially a pre-workout supplement meant for both men and women. Made from 19 powerful ingredients, it can help in improving athletic performance to help users derive maximum benefits from their workout sessions without any harmful side effects.
It can provide extra energy and boost mental focus without stomach cramps, jitters, or digestive problems. Moreover, you can easily prepare it within minutes as a pre-workout drink. All you have to do is add one scoop of the powder to 16 oz. of water and mix it thoroughly. Drink this at least 30 minutes prior to hitting the gym to help your physical performance improve.
What we also liked is that the Crazy Nutrition Intensive is unlike most other sports supplements, which don't really focus on taste. It comes in three tasty fruit flavors (mixed fruit, blue raspberry, and green apple), so you don't have to worry about annoying your taste buds.
What Are The Benefits Of The Intensive Pre-Train Supplement?
A good pre-workout supplement works as an all-rounder to provide you with the required physical energy and mental focus to facilitate high-intensity exercise performance for muscle-building and weight loss. And this formula aims to do just that.
In this regard, some of the major benefits that you can expect from Crazy Nutrition's pre-train supplement include:
1. Increase In Energy Levels
Among the best things about this formula is the inclusion of premium stimulant compounds that help boost energy- both mental and physical. This, in turn, enhances your drive and motivation to improve your workout performance regularly.
2. Better Focus
Another advantage of the intensive pre-train workout formula is that it helps improve focus by keeping your mind alert through intensive workout regimes. Besides, the low chances of side effects mean low recovery time and less worry about anything going wrong.
3. Contributes To Muscle Strength
There are quite a few ingredients (which we will talk about shortly) in the intensive pre-train formula that improve muscle strength and physical endurance, especially while performing resistance training. As a result, you can experience faster muscle mass gains and low muscle fatigue.
4. Helps With "Muscle Pump"
Wondering how to make your muscles look fuller and more defined after all that strenuous lifting? Then this effective pre-workout formula can come to your rescue while reducing the risk of muscle damage!
What Is The Crazy Nutrition Intensive Pre-Train Supplement Made Of?
We understand that everything we've mentioned about the Intensive pre-train formula so far has piqued your interest in the ingredients. So, we will now address the elephant in the room- what is this supplement actually made of?
One serving (or 25g) of the Crazy Nutrition intensive pre-train powder contains:
1. Ascorbic Acid (Vitamin C) (80gm)
Ascorbic acid is the most common form of vitamin C used in many pre-workout supplements for all the good reasons. Firstly, it protects the muscle proteins from degenerating by preventing the accumulation of any non-essential amino acid and aids the production of collagen in the body.
Moreover, this compound can be specifically more helpful for people over 50 years of age looking to increase muscle strength and mass.
Not only that, but it also pairs well with other vitamins, minerals, and proteins to improve your overall well-being and immunity. Additionally, it enhances the bioavailability of iron entering your body through this supplement and other food sources.
2. Citrulline Malate 2:1 (7g)
Citrulline malate is yet another commonly used ingredient in many sports supplements, as it can boost nitric oxide levels in the human body.
Besides, it improves the level of arginine, and both these activities increase blood flow to the muscles, making them look more defined while reducing their recovery time. That is why the brand has included it in such a high amount, which is safe for consumption.
3. Niacin (8mg)
Niacin is one of the B vitamins, offering multiple benefits, like facilitating more blood flow to the muscles and better energy metabolism. The former is especially necessary to slow down lactic acid build-up in your muscles, thereby delaying the onset of muscle fatigue. Hence, you can workout for longer periods to achieve your goals.
4. Beta-Alanine (2.5mg)
Beta-alanine works in tandem with niacin to delay the accumulation of lactic acid in your muscles. But its primary function is to improve the number of carnosine molecules in the muscles for better strength, endurance, and power.
5. Betaine Anhydrous (1.8g)
Although it may not have a direct impact on muscle strength or power, the osmolyte betaine anhydrous protects the integrity of your muscle cells by balancing the biological fluids in them. Furthermore, it facilitates muscle hydration so that your muscles stay free from fatigue for prolonged periods during your workout sessions.
6. Glycerol Monostearate (1g)
This compound works closely with betaine anhydrous to help your muscles retain hydration and energy. The result is better endurance, less fatigue, and improved performance in the gym.
7. L-Arginine AKG 2:1 (1g)
L-arginine AKG or alpha-ketoglutarate is an important amino acid that also boosts blood flow to the muscles, especially when combined with citrulline malate.
8. L-Tyrosine (1g)
Now that we're talking about amino acids, we couldn't miss out on introducing L-tyrosine, which is the main ingredient responsible for boosting your mental health.
As some of our readers may already know, norepinephrine and dopamine are two vital neurotransmitters that help with mood upliftment and motivation. However, there may be a drop in these levels, especially from the stress of day-to-day life. And L-tyrosine can replenish them to keep you motivated during strenuous workouts.
9. L-Phenylalanine (400mg)
Moving on with the amino acid line, the formula has included L-phenylalanine, which is known to assist fat burning for effective weight loss.
10. Glucuronolactone (400mg)
Although more research is required to ascertain the particular benefits of glucuronolactone (found in many common energy drinks), initial evidence suggests that it may:
Relieve joint pain
Reduce inflammation
Clear brain fog
These potential benefits can be observed when the compound is used in tandem with other helpful ingredients- something the Crazy Nutrition intensive pre-train supplement has put to good use.
11. Caffeine (200mg)
Caffeine, as a part of workout supplements, needs no introduction. It's one of the most commonly used and effective stimulants for your central nervous system, which benefits your physical and mental health. This means it can reduce fatigue, aid recovery time, alleviate perceived pain, and improve mood to keep you focused and alert.
It's regarded as one of the best stimulants to enhance your anaerobic training capacity and endurance performance. Apart from that, it can come in handy for improving muscle strength and power.
People sensitive to caffeine can opt for the green apple flavor that comes without it.
12. En-Xtra (100mg)
This patented ingredient boosts the caffeine-related benefits without causing the commonly associated side effects like high blood pressure and increased heart rate. Moreover, it can reduce the chances of fatigue and brain fog, which are often experienced with increased caffeine intake.
13. BioPerine (5mg)
This is a black pepper extract that acts as a bioavailability enhancer for your body. This ensures the optimal absorption of the other ingredients in the supplement so that you receive maximum benefits from them.
14. Taurine (1g)
Taurine, in tandem with caffeine and the vitamin B family, can protect your muscles against damage caused by undue oxidative stress resulting from intense workouts.
15. Ashwagandha (Withania somnifera L.) (300mg)
This supplement also contains some of the highest quality Ashwagandha strain to reduce stress and anxiety. But the main reason why it has been included in this supplement is its testosterone-boosting abilities. Increased testosterone can help with:
Enhanced sexual performance
Protein digestion
Weight loss
Who Should Use The Crazy Nutrition Intensive Pre-Train?
The brand claims that this supplement is formulated to be suitable for almost anyone- from experienced, strength-trained men and women to novices. However, we'd strongly recommend buying it from only the official website to avoid ending up with duplicates.
What's more, it offers anytime free shipping and a money-back guarantee of 60 days for unsatisfied users.
Final Words
So, does the Crazy Intensive Pre-Train work?
After studying the ingredients, we've come to the conclusion that it has a mild formula, which may be more suitable for beginners. Moreover, the brand doesn't make any fancy or unrealistic claims about this product- it tries to get the basics right.
That said, we'd suggest seeking medical opinion before starting any supplement, especially for people who have any existing health condition or take regular medication. Likewise, ensure that you aren't allergic to any ingredient.