Just started your bodybuilding journey but aren't sure about the supplements to include in the routine? 
With a plethora of brands claiming to deliver superior workout results, we understand how difficult it can be to find a reliable option. That's exactly why we're here with a review of the most popular products from Crazy Nutrition. You might've already come across the brand name, as it's been in the limelight for a while now. 
In this review, we'll make you understand how the product line can help you bulk up, speed up muscle recovery, or improve your performance in sports. So, let's start!
Crazy Nutrition Review
Before we discuss the products in detail, let's get to know the brand first. 
About Crazy Nutrition 
Though Crazy Nutrition is a relatively new entrant in the supplement industry, it has quickly become a prominent name among fitness enthusiasts. Its reputation and credibility stem from the transparent approach followed — all its supplements have been tested and found effective in enhancing fitness levels and helping in bodybuilding. 
The brand doesn't use any illegal steroids, banned stimulants, or proprietary blends in its formulations. Instead, you get the goodness of purely natural ingredients that are of the highest standard and quality as per clinical experiments. 
Crazy Nutrition offers three supplements that help in building muscles and boosting energy. So, let's go ahead and know what each of them can offer. 
The Best Crazy Nutrition Supplements
1. Pre-Workout Supplement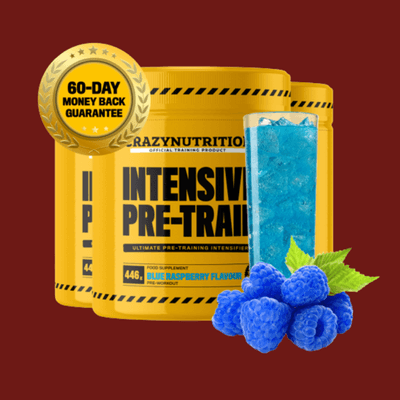 Known as Intensive Pre-Train, this supplement boasts a superior-grade formulation comprising 19 high-quality and powerful ingredients. These work in unison to provide athletes with the drive, focus, and energy essential to enhancing their performance manifold. 
Intensive workout sessions can often drain your energy and physical strength, but such an effective pre-workout drink will help you stay active during the session. 
In turn, this will help maximize the effect of your workouts, including the more strenuous ones. You'll be able to run faster, lift heavier weights, and train harder after subsequent uses. 
As for its working mechanism, it effectively boosts muscle strength, growth, and recovery throughout a session — much more than what regular energy boosters can offer. Do note that you get such results without experiencing secondary side effects like stomach cramps, jitters, and digestive issues as with ordinary supplements. 
Furthermore, eminent professionals such as fitness expert Danny Levi and IFBB Pro Nelson Lopes have endorsed and recommended this product. 
2. Post-Workout Protein
Crazy Nutrition also surpasses many competitors with regard to its post-workout supplement. This formula comprises six types of non-GMP and all-natural proteins to help in quicker protein synthesis. With regular intake, you can gain physical strength and achieve more robust and powerful muscles. 
This formulation also helps you feel fuller, satiated and energized for an extended duration. 
Aside from offering such amazing health benefits, this option comes in a delicious taste and is pretty easy to mix for a quick dose after your workout. After all, no one would choose a hard-to-use supplement for refreshing themselves after a rigorous workout session! 
Another point worth noting is that the proteins in the supplement disintegrate via an energy cycle of three phases, hence the name Tri-Protein. This process releases energy into your body system so that you can absorb it as ATP within your muscles and fuel muscle gain. 
Do note that this Crazy Nutrition protein powder offers 21 g of protein in each helping, which helps boost lean muscle, stimulate muscle repair, and curtail post-workout fatigue. 
3. Creatine Health Supplement 
If your sport or fitness activity requires building even higher stamina, the Ultimate CRN-5 is the nutritional supplement to go for. It uses a more powerful formulation than the other two, combining the power of five creatine types and several electrolytes. 
Ultimately, this mass gainer meal shake will help build lean muscle, boost energy levels, and maintain normal hydration. That's how you can push beyond the usual limit both during your workout and practice sessions.
The blend of five creatine types also helps enhance ATP levels for intense power, letting you churn out the extra repetitions essential to gain muscles. Like the other options, this one has also earned many recommendations, including that from Claire Avis, IFBB Figure Pro, and fitness model Nick Manning. 
All About Their Ingredients
It's time to take a closer look at the formulation of each of these supplements: 
1. Intensive Pre-Train
As mentioned earlier, this pre-workout blend consists of 19 all-natural and powerful ingredients that help enhance focus, drive, and energy. All of these are legally permissible and unlikely to have any adverse effects on the body. The primary components include:
A. Beta-alanine and other amino acids: These enhance the exercising capacity of athletes and decrease fatigue of the muscles. 
B. Citrulline malate: Studies have shown that it may improve oxygen usage by the muscles to increase endurance. 
C. Bioperine (extract of black pepper): It contains the active compound piperine that enhances thermogenesis or the metabolic process of generating energy. 
D. En-Xtra: This caffeine-free supplement contains the extract of the herb Alpinia Galanga and may help improve focus and alertness.  
E. Ashwagandha: It improves stamina, helps build lean muscle mass, and enhances body strength. 
2. Tri-Protein
The six natural protein sources included in Tri-Protein are:
Micellar Casein
Calcium caseinate
Whey protein concentrate
Whey protein isolate
Whey protein hydrolysate
Milk protein
Among these components, micellar casein plays a significant role in bodybuilding — it supplies several amino acids to the body to support muscle growth and recovery. 
The whey compounds perform the dual function of protecting the immune system and improving muscle health. They contain proteins called immunoglobulins which prevent bacterial infections, have antioxidant effects, and increase absorption of vital nutrients such as iron. As for milk protein, it functions in a more holistic way to promote muscle-protein balance.  
The formulation even includes a few digestive enzymes that help in the effective absorption of all the nutrients. 
3. Ultimate CRN-5
This power-packed creatine supplement comes with the following types of the compound:
Creatine hydrochloride
Creatine monohydrate
Tri-creatine malate
Creatine ethyl ester
Creatine citrate pyruvate
Additionally, the formulation includes electrolytes such as sodium, Aquamin, and potassium. 
Do note that such a combination ensures optimal absorption of the ingredients by providing the right dosage and different sources for the main ingredient. Ultimately, you get better muscle growth and recovery and stay adequately hydrated. 
How To Use These Supplements? 
Each Crazy Nutrition supplement comes with a formulation that's highly receptive to your stomach wall. As such, we recommend following the brand's usage and dosage instructions to ensure the supplement fetches the desired results. 
To use any of the above supplements, you should:
Pour a scoop into a glass containing 16 oz of water or a preferred shake. 
Shake and stir the mixture properly to make it uniform, and drink it up to nourish and refresh your body. 
Be consistent with the dosage for the best results. 
What Are Previous Customers Saying? 
All the three supplements from Crazy Nutrition have fetched pretty good reviews to date. Many customers have praised how their all-natural formulas prevented any side effects and fetched quality results from just a few months of regular intake. It helped them feel energized and refreshed for a long time, while they also recovered faster after rigorous workout sessions. 
Others have appreciated the taste, saying these supplements weren't dull and disturbing as with several standard products containing a host of synthetic chemicals. The caffeine-free formulation was another feature lauded by people weary of the stomach cramps and headaches common with caffeinated energy drinks. 
FAQs
1. How long do Crazy Nutrition supplements take to show results?
You'll experience benefits such as better energy levels, drive, stamina, and satiation right from when you begin taking the supplement. But other benefits linked to your fitness goals will depend on your body composition. It generally takes one or two months to notice a change in the physique based on an individual's workout sessions, genes, and lifestyle.
2. What are the flavors available for these supplements?
The flavored variants of the three supplements are:
Intensive Pre-Train: Green apple, fruit punch, and blue raspberry
Ultimate CRN-5: Mango, orange
Tri-Protein: Vanilla, salted caramel, and chocolate
3. Where can you get these supplements? 
Crazy Nutrition supplements are available at the cheapest rate on the official website of the brand. Also, you can avail of attractive discounts from time to time. 
Final Words
Ready to reap the benefits of Crazy Nutrition supplements for your workout routine? Take the Intensive Pre-train to start with, and we're sure you'd want to add the Tri-Protein supplement to your routine soon! 
We conducted days of in-depth research and took first-hand inputs from regular customers to understand whether this supplement brand really walked the talk. So, rest assured that it's worth your trust. 
That'll be all for today, but we'll see you soon with another guide!