Picking suitable activity and fitness trackers can be challenging simply because of the many choices from multiple brands in today's market. According to RunRepeat data, Americans bought 51.1 million units of fitness trackers in 2019 alone, which is a testament to its high demand.
Most health trackers have a display screen for seamless and continuous live feedback. As amazing as this can be, the constant beeps, vibrations, and flashes can be distracting if you wear a tracker with a display.
Top fitness trackers with minimal or no display are few and far between. But if you find the right one, screenless trackers have more advantages than their counterparts with a display.
Let's dig deeper and discuss the best fitness trackers without a display screen.
Fitness trackers with or without display?
Most health and fitness trackers have a display screen with the great advantage of continuous live feedback of the measured data. Furthermore, these trackers alert you to calls and texts on your phone so that you stay on top of your daily routine.
However, the constant beeps and the display screen lighting up throughout the day can be extremely distracting.
This is where you might want to consider fitness trackers without a screen.
Fitness trackers without a display screen, true to their name, are screenless. They have a minimalist design, so you would be forgiven for mistaking them for a fancy wristband. Apart from their excellent futuristic design, trackers without a visible display have several advantages that include –
Better battery performance: The battery performance of health trackers, or any tech device, with a screen, takes a big hit because of the constant flashes and display. In this regard, a fitness tracker without a screen can prolong the battery life since it doesn't have to put up with the constant alerts on display.
Less distracting: Screenless fitness trackers are discreet because the display isn't going off at all times. You can read the recorded biometrics from your day whenever you want; hence, you get more control over your devices and avoid distraction.
Affordable and durable: When you compare a tracker with a screen and one without, the latter is always cheaper. In addition, health trackers without a display also have a longer lifespan, so you get a bang for your buck.
Aesthetically more pleasing: This feature of health trackers, I admit, is subjective. But if you prefer a sleek tracker that looks stylish and tracks your activities with great accuracy, nothing beats a tracker without a display screen.
Trackers without display are not without drawbacks, of course. For most people, the inability to access continuous live feedback is big. In addition, health trackers with minimal to no display screens are also hard to find.
Having said that, trackers without display come with the following pros and cons.
Pros
Better battery life
Less distracting
More affordable
More convenient
Very durable
Cons
There is no live feedback
Some models have less functionality
Best Fitness Trackers Without Display Screen
In no particular order, my recommendations for the top three fitness trackers without display are:
Fitbit Flex 2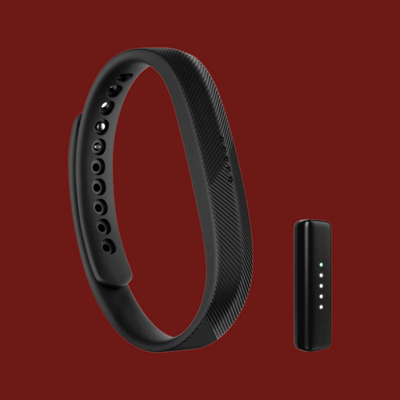 The Fitbit Flex 2 easily takes the first spot on my list of the best fitness trackers without a display screen for several reasons.
In place of the obnoxious screen, the Fitbit Flex 2 has four progress display buttons that are color coded for texts, calls, and a reminder to move. This tracker features an ultra-slim design, which is a feature that I personally love. The Fitbit Flex 2 comes in a no-nonsense black color, making it a perfect fit for everyone; other color options are also available, but you need to search hard.
You will love that this tracker tracks your activity while walking, running, or exercising. The Flex 2 is also designed to detect whether you are cycling, walking, or performing other physical activities.
This tracker also monitors your sleep and analyses the quality of your sleep, so once you pair it with a device with a Fitbit app, it allows you to stay on top of your fitness game.
The Flex 2 from Fitbit is also waterproof, so you can go for a swim and not worry about taking it off. If you're curious, a lithium-ion battery keeps this tracker running for up to five days on a single charge. You can pair the Flex 2 with smartphones with the Fitbit app and check the tracked data at your convenience.
The accuracy of the Fitbit Flex 2 in capturing the data from your activities is on point. So if you engage in low-intensity exercises daily, you will love this health tracker to keep you motivated in your fitness journey.
The Flex 2 from Fitbit does not have a heart rate monitor, which is a minor drawback, but the other features make this one a total winner.
Features
Slim design with no screen
Tracks sleep, distance, and calories burnt
Reminder to move
Waterproof
The Fitbit Flex 2 has stellar customer reviews, which affirms its status as one of the best minimalist fitness trackers without a display screen. But feel free to check out the Fitbit Flex 2 on Amazon before deciding if this health tracker is truly the right one for you.
Sony SmartBand 2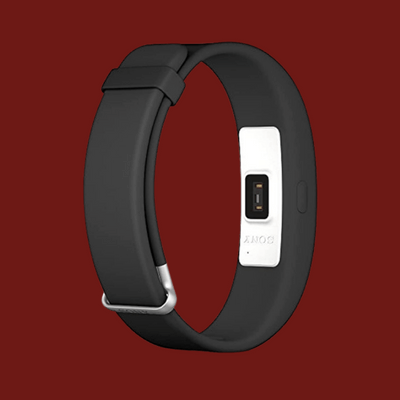 The SmartBand 2 from this electronic giant is a true hidden gem for several reasons. Not many people are aware that Sony makes fitness trackers, and besides, this one has no screen, so it does not get the attention it deserves. But it has a minimalist design that collects your data throughout the day so you can read them later on your phone.
Sony SmartBand 2 is an upgrade from its predecessor and has several features that were not in the original SmartBand.
First, the Sony Core Unit brings the heart-monitoring feature to the SmartBand 2, which was absent in the previous model. Second, the wristband in the upgrade is also noticeably softer and has a buckle closure as opposed to the coarse material and press-pin in the older one.
This smart wristband tracks your steps, whether you walk or run. In addition, this Sony wristband also keeps track of your energy levels, which is a great feature if your days are packed with activities. If you play many songs on your phone, this tracker will also keep track of it.
The second-gen SmartBand, however, does not track the distance traveled, which was not a deal breaker for me, but I wanted to point it out to you.
The SmartBand 2 from Sony also monitors your heart rate, giving it more edge over the Fitbit Flex 2. In addition to the built-in heart rate monitor, this tracker has an accelerometer, which can also monitor your heart rate variability or HRV.
Pair it with your smartphone to get the most out of the SmartBand 2, and you instantly have your smartphone's biometric tracking. This tracker also allows you to get text notifications from your phone.
This screenless health tracker runs on lithium-ion, so you can use it for up to five days without worrying about the battery dying. The SmartBand 2 also has IP-certified 68 for its waterproof feature, so you can swim or run in the rain without any issues.
Features
Minimalist and screenless design
Tracks steps, distance traveled, and energy levels
Has a built-in heart rate monitor
Take a look at the Sony Smart Band 2 here
Misfit Ray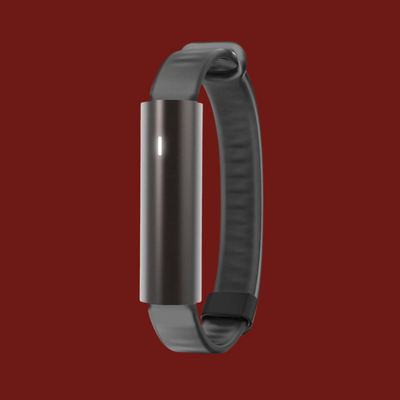 This tracker from Misfit Ray is another one that does not get a lot of traction but is a fantastic choice if you're looking for one without a screen display. Misfit designed this health tracker with sturdy rubber and the smallest multicolor LED progress display, giving it a clean appearance.
With this health device on your wrist, you can track your steps, distance, and the number of calories you burn in a day. Misfit Ray also tracks all physical activities you perform throughout the day. This includes swimming, running, soccer, basketball, tennis, or cycling, making it a top-notch tracker.
A feature of Misfit Ray that stands out is the accuracy level when collecting data. Whether counting your steps, the number of calories burnt, or keeping track of other physical activities. This minimalist fitness tracker is an absolute champ for its precise readings.
This tracker also monitors whether your sleep is light or heavy and is a feature I found very helpful. This tracker's pulse tracking frequency is a hit-and-miss, but it is pretty accurate when it kicks in.
Another excellent feature about the Misfit Ray is that it is non-charging, so the batteries run between 4-6 months, depending on your usage. This health tracker is also waterproof, so don't worry about taking it off before going for a swim.
You can also hook up this wireless sport band with an Android or iOS smartphone, which will alert you to a text or a call through a vibration. Once you pair the Misfit Ray with your phone, you can remotely control it and smart lighting in your home through the tracker.
The Misfit Ray features a matte aluminum cylinder that makes up the tracker, and the wristband comes in several colors – green, navy, black, white, rose gold, and stainless steel. If you are interested in the aesthetics, this tracker also comes with a leather wristband but is a bit pricier than those with silicone.
Features
Tracks steps, calories, and sleep
Slim waterproof design 
Replaceable batteries last up to six months 
Available in six different color options 
Fitness trackers with minimalist display
The health trackers under this section come with a display – but that's not what you promised, you must be thinking. Well, the displays in these trackers are tiny and negligible, so you won't even know the difference.
And besides, these two trackers are top-notch in terms of performance, so I couldn't help introducing them to you.
Polar Loop 2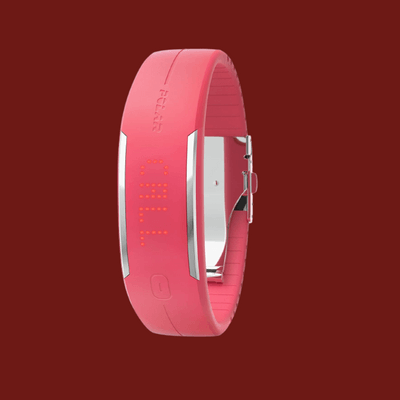 First up is the Polar Loop 2, which is instantly an attention grabber for its sleek and minimalist design. This wearable health device has a minimalist display through which you get alerts on calls, texts, or reminders to move. However, unlike the constant flashes from a tracker with a display, the Loop 2 does not display the alerts unless you tap on it, making it very discreet.
The Loop 2 accurately tracks your steps, calories burnt and the distance covered in a day – but that is not all.
This fitness device tracks your activity based on low, medium, and high-intensity levels. Interestingly, the Loop 2 tracks your activity while you rest and sit at separate intensity levels, a feature not found in other fitness trackers.
If you have an H7 heart monitor, you can pair this tracker with it. It also thoroughly monitors your sleep, including pattern, time, and quality. You can also pair this Polar tracker with your smartphone and sync it with the Flow app from the brand to access other features to plan and achieve your health goals.
Need an alarm? No problem! Set your time, and Loop 2 will gently wake you up with a gentle vibration on your wrists.
This wristband tracker has soft silicone and is adjustable for the utmost comfort. If you're wondering about the battery in this tracker, you can get up to 120 hours with a single charge, so you have nothing to worry about.
The Loop 2 from Polar comes in three colors – pink, black and white, so you have options.
Features
Tracks activity based on intensity levels
Minimalist multicolor LED display for alerts
Soft silicone and adjustable band for maximum comfort
Compatible with H7 heart monitor and smartphones
Check out the Polar Loop 2 on Amazon, and you can decide whether you love this fitness tracker as much as I do.
Garmin Vivosmart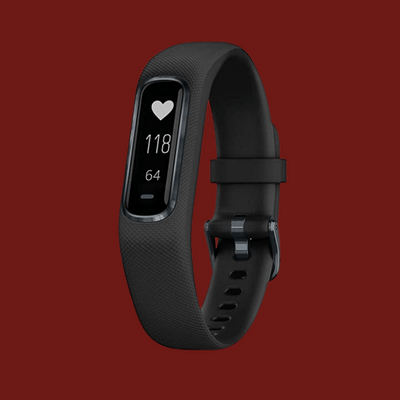 It is hard to avoid Garmin when we talk about wearables and other tech devices in the sports industry. The Vivosmart has one of the smallest displays among the trackers from the brand. But the minimalist display in this health tracker is not the only reason I love it.
The accuracy of biometric tracking by Vivosmart is exceptional, which is its best feature, in my opinion. This minimalist tracker records your steps when you run, walk, swim, strength train, or do yoga, as a standard fitness tracker expects.
But the Garmin Vivosmart takes it a step further.
This tracker has built-in tools that monitor your base heart rate and energy levels. You will also love that Vivosmart tracks your stress levels and alerts you to engage in relaxation breathing if you are under stress, which is really cool.
Another fantastic feature of this tracker worth mentioning is the Pulse OX sensor, through which you can check the saturation of oxygen levels in your blood anytime during the day. If you wish to know about the oxygen level saturation in your blood during the night, Vivosmart also has an option for you to activate it before going to bed.
Furthermore, this tracker sends alerts for calls and texts; Android users can also access text replies. But of course, you need to pair the tracker to a compatible smartphone before you can use these features.
The battery in the Garmin Vivosmart that runs up to seven days is also a great feature that you will love. This tracker from Garmin also comes in several colorways, including black, rose gold, silver, and gold, so you have plenty of options. You can also choose the Vivosmart tracker between two sizes, small/medium and large, depending on the size of your wrists.
Overall, the Garmin Vivosmart is an excellent pick if you love to keep track of your activities – and it is no surprise that it has a lot of 5-star reviews from its users.
Features
Slim design with minimalist display
Tracks all types of physical activity
Monitors your heart rate and stress levels
Waterproof and durable design
Checks your blood oxygen saturation
Wrapping up
Fitness trackers have been enjoying their time in the limelight for some years and for all the right reasons. These slim pieces of technological devices that strap effortlessly to your wrists keep track of your physical activities, sleep quality, and heart rate without any input from you.
It is a fact that most fitness brands manufacture health trackers with a display screen, which is great if you love to have every update of your physical activity on the go. However, the constant updates and flashing lights can get a bit too much in the long run.
So, if you love a straightforward tracker to help you hit your fitness goals, a screenless tracker or one with a minimal display may just be the right device for you. I hope my pick of minimalist fitness trackers without a display screen can give you a head start in finding the tracker that fits all your needs.
Most importantly, have fun with your fitness journey!